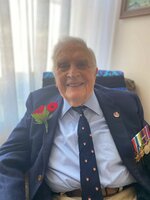 George Stenning
George Stenning passed away very peacefully on June 21st in London Ontario.
George was born in Lima, Peru on April 19th, 1921. At the age of 7 he was enrolled in the private school King Williams College on the Isle of Man where he stayed with his brothers until he was accepted into engineering at the University of McGill in 1938.
George was a loving husband to Sylvia, father to Andrew (Elise), George (Betty) and Lee Serieys (predeceased). He will be sorely missed by grandchildren Samantha (Evan), Cathryn (Cameron), Matthew (Amanda), Marc, Luke and Philip (Susan) and great grandchildren Taylor, Andrew, Jacqueline and Elliott.
George was a very big believer in service and giving back. After graduating as a mining engineer in 1942 he immediately enlisted in the Canadian Navy and served as an officer on the HMCS Kirkland Lake running escort missions in the Atlantic until the end of the second world war. After the war he led a very distinguished career as a mining engineer and a member of the Canadian Institute of Mining that spanned over 40 years and covered 3 continents and several countries…but primarily across northern parts of Canada. Throughout his retirement he continued to serve through volunteer positions in organizations such as CESO (Canadian Executive Services Overseas), Meals on Wheels, Professional Engineers of Ontario and Kiwanis where he eventually served as the President of the local Barrie Golden K chapter.
George loved his home, he loved entertaining and gardening and all the birds in his garden, he loved sports and he absolutely loved his wife and his family. He was extremely well respected throughout his career and regarded by all as a true gentleman. He will be sorely missed by his family and all who knew him.
A special thank you to all the staff at his Veterans Long Term Care Facility at Parkwood Institute where he received exceptional care.
A celebration to be held in London at a date still to be confirmed.