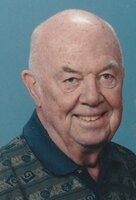 Robert James Geoghegan
September 7, 1931 –July 11, 2022
Bob is predeceased by parents, Russell and Louise Geoghegan
his brother Gordon Geoghegan
Bob is survived by his wife Ruth Geoghegan
Children
Tim (Gail) Geoghegan, Tom (Kathy) Geoghegan, Cheryl (Barry) Geoghegan-Langford
Grandchildren
Ryan, Aaron Geoghegan and Ella, Garen Geoghegan and James(Janell) Langford, Andrew Langford
Also, many nieces and nephews
Mom and Dad spent 64 wonderful years together and were approaching their 65th wedding aniversary at the time of his passing.
Dad leaves us many memories including; the adventures of Billy Bee and his Bird book, fishing stories, and his numerous holes in one.
At Dad's request, there will be no services. Cremation has taken place.
"Always in our hearts"