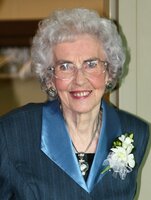 Adele Golden Stewart
STEWART, Adele Golden
1925 – 2022
After receiving the blessing of her family, Adele Stewart (Wardlaw) passed away peacefully at Craigwiel Gardens, Ailsa Craig, on July 23, 2022. She was in her 97th year. Adele was married for 61 years to her best friend and the love of her life, the late John Andrew Stewart (2011) . Predeceased by her brother and sister-in-law, Harold and Norene Wardlaw, she is survived by her brother and sister-in-law, Keith and Myrtle Wardlaw of Rossville, Georgia, as well as in-laws, nephews, and nieces of the Wardlaw and Stewart clans.
Adele will be lovingly remembered by her children: Lora Lee (Ray) Wood of London; Jana Lyn Rutledge of London; Blair (Connie) Stewart of Ailsa Craig; Karl (Jennifer) of Morgan Hill, California; and Kevin (Debbie) Stewart of Coldstream; and her grandchildren, Christi (Josh), Lindsay (Luke), Ryan (Shayla), Sean, Haydn, Kendra, Shelby, Jackson, Rachel (Mike), Jenna, and Kaylee. Her great-grandchildren: Landon, Kennedy, Micah, Leya, Dash, Brighton, Avery, and Emery will come to know about their great-grandma through our stories.
One of the first things the great-grandkids will hear is that Great-Grandma had a great sense of humour. Adele had a quick wit and loved to laugh. When she laughed, her shoulders shook. She loved telling stories, hearing stories, and laughing at stories. Even in her final hours, that sense of humour was there. Great-Grandma was a great cook, always trying new recipes, always had food on hand—a never-ending job with five kids to feed. As her kids, we never wanted to be in the car with her when she announced we needed "bread and milk." We knew we'd exit the store an hour later pushing two grocery carts. Generous and charitable, Great-Grandma enjoyed being hospitable, opening her home for family, friends, and the community to gather around her table (and the backyard). Great-Grandma was fun-loving and feisty; the first time she met Great-Grandpa, she took his hat. She loved reading. She loved a good, hot cup of coffee. She hated alcohol, so every Christmas amid the chaotic preparations for our large, extended family turkey dinner, someone would spike her juice. As she finally sat down to begin the meal, she would take a sip, make a face, and we would yell, "Tradition!" And she would laugh. Every year. She fell for it every year. She loved her husband, her family. Above all, she loved the Lord. Great-Grandma was a woman of deep faith who had trusted in Christ as her Saviour. We all knew of her precious time spent reading the Bible and praying for her family.
Our family will feel the loss of those prayers.
We will feel her absence.
We will miss her laugh.
We are grateful to the dedicated staff of Craigwiel Gardens for their compassionate care of Adele during a very difficult season. We know her sense of humour brightened their days, too.
On August 24, 2022 -- which would have been Adele's 97th birthday -- the family will hold a private graveside service and interment at Carlisle Cemetery, Carlisle, Ontario.
In lieu of flowers, memorial donations can be made to the Craigwiel Gardens Building Fund, a registered charity, at www.craigwielgardens.on.ca . Or donations can be made directly at (519) 293-3215, ext. 210.