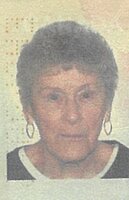 Jemima Clark Doak
December 12, 1934 - August 1, 2022
Jemima is predeceased by husband, Robert Doak, and son, Robert Doak. Her sisters, Betty Bowie (John); Isabelle Muir (Albert); and Jean Thomson.
Jemima is survived by her children Ken Doak (Ruth Ann) and Elizabeth Doak. Grandchild, Samantha Wilson (Nathan), sisters Sadie Carr (Bill), Senga King (Sam), nephew Alan Muir (Mardell), neice Anne Bradley (Alan).
Jemima spent 56 years in London, Ontario after moving from Scotland with her family to join other family members. She leaves us with many memories which the family and friends will always treasure.
"Always in our hearts"