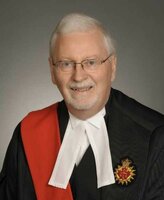 Doug McDermid
THE HONOURABLE MR. JUSTICE DOUGALD ROBERT MCDERMID (ret.)
1938 – 2022
Dougald "Doug" McDermid died peacefully at home on Wednesday, November 9th, 2022 with his wife Julie at his side. He was predeceased by his father and mother, Dougald and Margaret (née McNabb) McDermid; his sister, Margaret Crook, (Dave); and his youngest brother, Kevin McDermid. He is survived by his treasured and loving wife, Julie A. McDermid; his daughter, Ann McDermid, (Gordon); his son, Douglas McDermid, (Michelle); his stepson, Ryan Green; his brother, Ronald McDermid, (Mary); his two grandchildren, Julia and Andrea McDermid; his nephew, David Crook, (Connie); and his niece, Shelby Hodson, (Stuart);
Born on March 26, 1938 at Collingwood, Ontario, he moved with his parents at about two years of age to Sudbury where he received his elementary and secondary school education. During university and law school, he worked each summer at INCO in Copper Cliff near Sudbury to earn the money to pay for his postsecondary education. He earned his B.A., (Political Science and Economics), from Victoria College at the University of Toronto in 1959. While there, he was active in many extracurricular activities, served as class president during his graduating year and was also elected permanent president of the "Vic" class of 5T9.
After obtaining his LL.B. from Osgoode Hall in 1962, he articled with Richard E. Shibley, Q.C. in Toronto. He was called to the Bar of Ontario on April 10, 1964 and then began to practice law in Niagara Falls, Ontario. After practicing there for twelve and a half years, (with "elegant decency", as described by one of his colleagues), he was appointed by the federal government to the County Court of the County of Elgin at the age of 38 and moved to London, Ontario, where he resided until his death. As a result of a series of reorganizations of the structure of the courts in Ontario, he became a judge of the Superior Court of Justice in 1990 until his mandatory retirement in 2013 at the age of 75, after serving thirty-six and a half years on the bench.
During his years practicing law, he was active in community work in Niagara Falls serving as: board member of the United Way; board member and VP of the Niagara Falls YMCA; board member and President of the Social Planning Council of Niagara Falls; and as an elected Trustee of the Niagara South Regional Board of Education for two terms. After his appointment to the bench, he became the founding President of the Ontario Superior Court Judge's Association and served several years as a member of the Board of Police Commissioners for St. Thomas. He was also appointed Regional Senior Judge of the Southwest Region of the Superior Court from 1998 to 2003 by the federal government. In 2002, he was deeply honoured to receive the Queen's Golden Jubilee Medal.
As a judge, he was widely respected and regarded as "a judge's judge". He was always ready to help a colleague, which he did often, and was especially encouraging to newly appointed judges. He was not often appealed and, given the large number of cases he heard over his career with and without a jury, was overturned rarely. He presided over many cases that attracted national attention and pre-tried other such cases for other judges. One of the most memorable cases he tried without a jury was R. v. Ssenyonga, about which the noted former journalist, June Callwood, wrote a book entitled, "Trial Without End", in which she described Doug as being "regarded as one of the finest judges in the country". Upon his retirement, a former Attorney General of Ontario, who had appeared before him often, was quoted as telling the media, "He was always fair, listening and understanding the positions advanced even after others might have given up or lost patience . . . Every day, his actions reminded us of how good our system can be." In the same article, a former Middlesex Crown Attorney was quoted as saying, "Justice McDermid was the quintessential judge . . . He was firm but fair — patient and polite but always in control of the trial process. He taught me the meaning of a 15-minute recess - it was 15 minutes."
As a person, he never forgot his roots and was thankful every day for his good fortune and the many blessings and opportunities he received in his life. He was wise, logical, patient and kind and gave wonderful advice and guidance to all those who sought it. He tried to live by "The Golden Rule" and to treat all with whom he came into contact with respect and politeness. He will be cherished and loved forever by his wife Julie for the love and happiness they shared through the years. His wife, family and friends will miss his sense of humour, his quick wit and their many interesting conversations about both historical and current events, the law and politics, in all of which he took a great interest. He loved to read and his intellect and curiosity led him to the study of an eclectic assortment of subjects.
He and Julie enjoyed travelling extensively, but their favourite vacation spot was at Fort Myers Beach, Florida where they visited semi-annually to rejuvenate and recharge. Doug was a voracious reader, and he also enjoyed walking, photography, working out at his fitness club, and spending time with his family and friends. At the age of 77, he took up golf. He lived a full life, "made a positive difference" and was a good man. Thank you to Dr. Cejic and his team at Byron Family Medical Clinic, Nurse-Practitioner Terri Quayle and the team of providers through Community Care and Access Southwest, the healthcare workers at St. Thomas Elgin General Hospital Complex Care Unit, as well as the caregivers of Medical Priorities who helped make Doug's last year one of hope, dignity, caring and comfort. He will be greatly missed but not forgotten.
Burial will take place at Woodland Cemetery. A celebration of life ceremony will be planned for the spring. In Doug's memory, please consider donations to the Heart and Stroke Foundation of Canada, and to the Canadian Cancer Society.