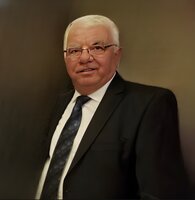 Perparim Demcellari
Perparim Demçellari passed away Friday December 2, 2022 after a brief battle with cancer few days shy of his 73rd Birthday.
He is survived by his beloved wife of 44 years Aferdita Demçellari (Nano), son Andi and his wife Kejda, daughter Viola and her husband Altin, grandchildren: Alvi, Adora and Aria; a sister, two brothers and many nieces and nephews. He was predeceased by his parents Demir and Mineko (Çuni) Demçellari and an older brother.
Përparim was born in Përmet, Albania on December 10, 1949, a town that although he left when he was six years old, never ceased to love and write about in many articles and more recently in a book that he finished few weeks before his early departure from this earth. He had focused his filantropic efforts, among other things, in the cultural and historical preservation of his home town Seniçan, Përmet by supporting many initiatives, cultural events and memorials that will be appreciated for generations to come.
Përparim attended the School of Economics in the University of Tirana followed by the Armed Forces Defense Academy of Albania. He then continued to serve in the Albanian military for 25 years where he held various roles including Chief of Logistics and Deputy Commander of the 1st Infantry Divisions of Tirana and Head of Logistics and Deputy Director of the Military General Hospital, in Tirana, Albania.
Upon retirement from the Armed Forces, Përparim was largely involved in the community where he was instrumental in his home church planting, New Hope Baptist Church, in Tirana and more recently Hope Community Church in Marikaj, Albania. Përparim was a deacon of New Hope Baptist Church, on the board of directors of New Hope Baptist Union.
He also continued to work in the capacity of President for Hope for the World Albania, for 20 years, until his retirement in 2019 and continued to serve of counsel and on the Board of Directors of Hope For the World – Albania until his passing. Under his leadership and vision, Hope for the World Foundation underwent significant growth and was recognised by First Lady Mrs. Laura Bush for their humanitarian efforts during her visit in Albania in 2007 as well as by the President of the Republic of Albania with the ''Mother Teresa'' award in 2017, recognising outstanding humanitarian acts.
A private family burial will take place in London, ON on Wednesday December 7, 2022 and a Celebration of Life will follow at a later time in Tirana, Albania.
In lieu of flowers please consider donations to Hope For The World Foundation, helping Albanian communities in a variety of ways www.hftw.org