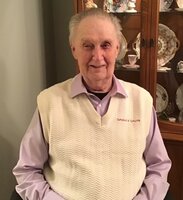 Frank "Bud" Vincent
With saddened hearts our family announces the passing of Frank Vincent at Victoria Hospital, on Saturday, January 21st, 2023, in his 88th year. Frank is survived by his wife, Barbara, of over 62 years, his daughter R. Heather Black and his son F. Randy Vincent and spouse Laura Lee Lightfoot. Cherished grandfather of Justin Alexander Vincent (Taylor Scrivens), Justin David Lightfoot (Jessica Sorenson), Nathan Daniel Lightfoot (Carolyn Lightfoot) and Jessica Brianne Vincent. Frank is survived by his great granddaughter Alyson Lightfoot, his brother-in-law Bill Groshok and several nephews, nieces and cousins.
Frank was very social, and his true legacy is the long list of people he knew from work, sports, church and neighbours, and was known as a kind friend with always a story to tell.
The family extends their thanks to family doctor N. Behme, University, Parkwood and Victoria Hospitals and Westmount Gardens doctors and staff who gave such excellent care.
In lieu of flowers or donations place a call or extend a helping hand to those in need.
Cremation has taken place and interment of ashes will take place at a later date in Union Cemetery.
Online condolences will be accepted at www.woodlandcemetery.on.ca.