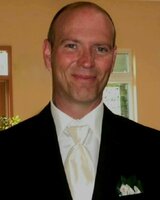 Terry McMillan
It is with extreme sadness that Terry's family announces his passing in his 54th year, on February 15th 2023, peacefully with his family by his side.
Terry was predeceased by his father Duncan McMillan, and by his two siblings Kara & Christopher Stamos. Terry is survived by his loving wife Kerri Jenkins, his beloved mother Donna McMillan, his cherished father Jim Stamos (Kathy), and his very special daughter Victoria Parkes. Terry is also survived by his brothers Steven McMillan (Amber), Neil McMillan (Kelly), his sister Caitlin Citton (Matt), his nephews Colin, Luke, Conner, his niece Abagail, as well as various aunts, uncles & cousins.
Terry did alot of extensive work for many non profit organizations in his previous years. He later attended ARC welding, in which he obtained various welding certifications. Terry became a very skilled welder and was top in his field. He very much enjoyed working for Saf-T-Cab up until his diagnosis in November. His co-workers were like a second family to him and they all really brought great joy to Terry.
In his spare time Terry loved spending time with his wife travelling around and going on adventures. He loved road trips, and spending as much time as he could outdoors. He frequented various water spots, and loved fishing & boating. Terry was in a pool league and very much enjoyed playing with his father and friends whenever he got the chance. He was a skilled player and enjoyed being challenged to a game.
Terry enjoyed taking trips to Sarnia to visit his daughter Victoria who he loved dearly. He absolutely loved spending time with his mother & fathers, his brothers, all of his family and friends.
Terry also cherished his three furr babies Kenzee, Jemma & Hana, who will miss him everyday.
Terry will be extremely missed by his wife Kerri. They spent most of their time always together, and were truly best friends.
In lieu of flowers, donations made to Pancreatic Cancer Canada foundation (PCC) would be appreciated
Terry's celebration of life will be held on February 25th at 2:00 pm at St. Lawrence Presbyterian Church located at 910 Huron Street, London Ontario.