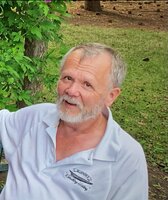 Ernst Holger "Ernie" von Krause
Ernst (Ernie, Hol) Holger von Krause
22 December 1951 - 21 February 2023
Ernie passed suddenly in his 71st year in London, Ontario, on a peaceful walk during the early hours of 21 February. He is survived by his father, Ernst Peter Sylvester v. Krause (Virginie v. Wahl), his children, Lawrence David Ernst v. Krause (Alison Elizabeth Innes), and Angela May Virginia Aubin (Nathan Aubin), and his brother, Gunnar v. Krause (Celeste Gabrielle Gagnon). He will be deeply missed by his grandchildren Philippa, Penelope, Jonathan, Gaius, Blaise, and Pandora.
Ernie has been cremated and he will find his resting place at Woodland Cemetery at a private ceremony in April.
In lieu of flowers the family would appreciate donations be made to the Heart & Stroke Foundation of Canada.