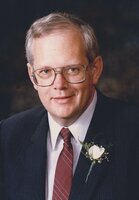 William Gordon "Bill" Clothier
CLOTHIER, William "Bill" Gordon – Died peacefully on Wednesday, March 1, 2023, with his family by his side following a lengthy illness in his 81st year. Bill is predeceased by his first wife Gail Clothier (née Haskett). He will be greatly missed by his wife of 36 years, Pamela Moores; daughter Rebecca; son William "Bill"; son-in-law Kevin Shepherd; and cousin Marilyn Buttery. He was a proud and devoted grandfather to grandsons Jesse Grenier (Gabriella) and Miles Shepherd.
Born on February 21, 1943, Bill was the only son of Ann Roselyn (née McLean) and William Elias Clothier. Bill was born and raised in Ingersoll, Ontario. He later moved to attend the University of Waterloo where he earned a Bachelor's degree and was licensed as a Chartered Accountant. Following this, he continued on to Queen's University to complete a degree in Economics. In 1970 he moved to London, Ontario and began working for Clarkson Gordon Chartered Accountants. In 1986 he ventured out to set up his own practice, Nisbett Clothier Chartered Accountants, which he operated for over 26 years, specializing as a business valuator. Bill ended his career working with Famme and Company.
Bill had a lifelong passion for anything related to trains and an insatiable thirst for knowledge of the world and the people in it. Bill was a key player in the building of the Crouch Library and in establishing the entrepreneurial Charted Accountants Group in London. He was a long-time member of the Baconian Club.
The family would like to extend a special thank you to all the devoted caring medical and surgical doctors, nurses, PSW, and auxiliary staff who cared for Bill over the years. The family would also like to express our heartfelt gratitude for the love and support of friends and neighbours during this difficult time.
Services will be held at Westview Funeral Chapel, 709 Wonderland Road North, London with visitation on Thursday, March 16, 2023 from 7:00 p.m. - 9:00 p.m., and on Friday, March 17, 2023 from 10:00 – 11:00 a.m. The funeral service will follow in the chapel at 11:00 a.m. Reception to follow. Cremation has taken place and a private family interment will be held at Woodland Cemetery at a later date. In lieu of flowers, those wishing to express sympathy should consider making a donation to a charity of their choice. For donation information or online condolences, please visit www.westviewfuneralchapel.com