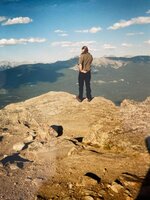 Aaron Stewart Pritchard
Our dearest, Aaron has lost his very brief battle with cancer on March 8th.
He will be dearly missed and is survived by his parents, Ray, and Pam Pritchard, his brother, Shawn, his sister Lorelei and her husband, Gary and daughter Taylor, as well as his very own son, Chase, and special friend Marc-Andre.
Aaron is also survived by his wife, Jennifer and her children, Candyce, Devon, and grandson, Diante all whom Aaron loved as his own.
Aaron was pre-deceased by infant daughter, Courtney, grandparents, Bill and Margaret Pritchard, and cousin, Jennifer.
Aaron's short life was not without his battles and struggles but with his perseverance, he always came through a stronger person. He loved his job at Great Lakes Copper, a place he called home with many great coworkers and friends for the last 15 years.
Aaron had a heart of gold and a smile that lit up every room he was in. He will always be loved and dearly missed by many.
Safe Journey Aaron – mom.