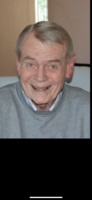 Ron Collyer
Ron Herbert Collyer passed away on Friday, March 1, 2019
We believe he was having far too much fun and eating too many apple pies.
Husband to the late Constance Rae, predeceased October 2, 2003
Dad to Margie, Sandra and Barbie
Grumpsy to Allison, Angela, Olivia and Chloe
Great-Grumpsy to Esmee, Mira, Aiden, Morgaine and Lucas
Brother to David, Katherine and the late John, predeceased February 28, 1989
Special friend to Landon the Leonberger, and Black Beauty the feline
RHC was an educator for over 30 years. With summers free he was able to enjoy the
great outdoors of Canada and Northern U.S.A., camping, canoeing, and hiking with family and
friends.
He left behind a lot of stuff which his girls have no idea what to do with; including a ping pong
table which was never played on. Instead, it serves as a table for overflowing gear and
repurposed containers used to protect his belongings from unsteady canoe partners.
Snowshoes are in the rafters and photos of great adventures with great friends and family are
piled high.
RHC was our own Grizzly Adams. He never turned down a paddle on a river, although one
does question the wisdom behind paddling the Steel River twice, 15 years apart. Just ask Bob
about portaging.
It seems people are divided into two categories; the strawberry pickers, and the strawberry
eaters. Dad was an eater. His brother Dave was a picker who covered for Ron's shortcomings.
We are fairly certain a debt remains between the brothers. Let the truth be revealed by Dave!
Dad loved, and was loved.
Cremation has taken place. His remains will travel to parts unknown over the course of the
summer of 2019.
Friends of Ron's are invited to celebrate his incredible life on Sunday, March 10, 2019,
from 2:00 - 4:00 p.m. at Ivey Spencer Leadership Centre.
Donations to Community Living London and Heart and Stroke foundation and any online
condolences may be left at
www.woodlandcemetary.on.ca