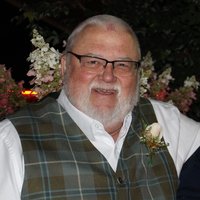 Kenneth Douglas
DOUGLAS, Kenneth Ramsay (1946-2019)
With his family by his side, Ken died peacefully and in the comfort of his home on Friday. March 8th, 2019. Ken is survived by his loving wife Marilyn (nee Secord) of 50 years, his Children Andrew (Michelle) Douglas and Emily (Bill) Lewis. His five grandchildren were the joy of his life: Annie & Teagan Lewis; Chase, Reece & Bryce Douglas. Survived by his sister Beverley (Ken) Newton and Craig (Doreen) Douglas and many more special family members and friends.
Ken was born in London, Ontario. He graduated from Brock University in 1969 and subsequently worked in Sales and Marketing for Bell Canada until 2001, when he became a Telecommunications Consultant in Colombia, South America, India, and the North West Territories. He retired to Wasaga Beach, Ontario and then moved to Ilderton, Ontario to be close to his family. In his retirement, he was an active and dedicated volunteer for various local organizations, like the Royal Canadian Legion and enjoyed poking his nose into local politics from time to time.
After a valiant 14 year battle with four different types of cancer he finally succumbed. Ken's laughter, positive presence and genuine nature will be missed by all and the courage and perseverance he has demonstrated will be a trait his family remembers and aspires to.
Cremation has occurred and a Celebration of Life will be held on Wednesday, March 13th from 3pm-5pm at Crossings Pub & Eatery 1269 Hyde Park Road, London, Ontario. A private family internment will be held at a later date.
In lieu of flowers, donations can be made to the Terry Fox Foundation please proceed to Donations
http://www.terryfox.ca/specialfundraising/inmemoryofkendouglas