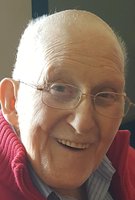 Campbell "Cam" Miller
In the early hours of Friday, April 12, 2019, Campbell "Cam" Miller lately of Dearness Home, London, ON found his final rest at the ripe old age of 95½ years. Born 28 October 1923 in St. Thomas, ON, he was the second of the three sons of John Ernest Miller and Hazel Alberta (nee Monilaws).
Following his service in the Royal Canadian Army (1944-45) in Alberta and Nova Scotia, he pursued a Bachelor of Applied Science degree in Civil Engineering, attending Queen's University, Kingston, ON for one year, and graduating in Spring 1953 from the University of Toronto. He was a member of Delta Upsilon Fraternity and was affectionately referred to as "The Deacon" during his university years.
In 1954 after obtaining a post-graduate degree in Public Health he was appointed Senior Consultant in Environmental Sanitation for the Stormont, Dundas, and Glengarry Health Unit in Cornwall, ON. In 1956 he joined the staff of Proctor & Redfern, Consulting Engineers in Toronto, ON before moving to London in 1958. He served as Assistant London Township Engineer in Arva, ON and was appointed London Township Engineer in 1960. Following annexation in 1961, became a member of the Engineering Department of the City of London in Construction Inspection as it related to Sanitation and Stormwater Drainage. He retired in 1988 completing a 30-year combined tenure.
In September 1951 he married Mary Elizabeth Shiels of Kingston, ON, and together they raised 2 daughters, Kathryn and Judith AnnE.
Cam was an avid naturalist throughout his life enjoying birding, foraging for mushrooms, exploring for wild flowers, and investigating all manner of flora and fauna, Latin names and all.
He combined his love of singing with service both as a chorus and quartet member of The London Men of Accord, a chapter of the Barbershop Harmony Society, and as a long-standing board member of the Ontario District Harmonize for Speech Fund. He was recognized by The Men of Accord with the Mr. Congeniality Award in 1983, and the Joe Barbershopper Award in 1993. He was acknowledged for Meritorious District Service during the Ontario District Fiftieth Anniversary celebrations in 1996. In collaboration with the Harmonize for Speech Fund, Elborn College School of Communication Sciences and Disorders at The University of Western Ontario established The Cam Miller Harmonize for Speech Graduating Award to be given each year to the student with the highest academic average in their communication sciences courses during their pursuit of their Master of Clinical Sciences – Speech Language Pathology.
His most fervent dedication was to his Christian faith and service. Throughout his life bible study was his almost daily routine. From 1960 until breaking his hip at the age of 85 he was an active and involved parishioner at the Church of St. Andrew Memorial, London, ON. During those many years he was, variously, a Sunday-school teacher, choir member, warden, lay administrator within the parish, and lay delegate for his parish to the Huron Dioceses Synod. He and his wife, Mary, both received the Bishop's Award for Excellence in Ministry bestowed by The Rt. Rev. Bruce Howe at the annual general meeting of synod in the early 2000s.
Cam is preceded in death by his parents Ernest and Hazel, his brothers Robert and James, his wife of 62 years, Mary Elizabeth, sister-in-law Eleanor, and nephew Norman. He is survived by his daughters Kathryn (Mark) of Vashon, WA, and Judith AnnE of London, granddaughter Sarah Yeoell of Tacoma, WA, nephew Matt Miller, Listowel, ON, and nieces Marsha Cleary and Mary Kay Ideson, both of St. Thomas.
A public memorial service will be held on Saturday, May 11, 2019 at 11:00 a.m. at the Church of St. Andrew Memorial, 55 Foxbar Road at Wellington, London, ON.
To quote him in his later years when he bid anyone good-bye – back at you Dad – "Go safely, with a quiet mind and God's peace in your heart!"
In lieu of flowers it was Cam's wish to support the service work of Harmonize4Speech (www.harmonize4speech.com) and Mission Services of London (www.missionservices.ca).