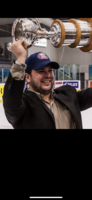 Kelly James Thomson
THOMSON, Kelly James - Passed away peacefully in his sleep on Sunday, April 21, 2019 while visiting his family in London for the Easter weekend. Kelly had just turned 34. While his life was short, it was full of love and adoration by his mother Darlene, his late father, John; his two amazing brothers Riley and Sean, all of London. Kelly will be deeply missed by his many aunts and uncles, cousins and an incredible network of friends.
Kelly was a member the 2005 London Knights championship hockey team that was recently voted greatest junior hockey team of the century. The following year, he went on to play for the Oshawa Generals. Following his playing days, Kelly moved behind the bench and lead his London Nationals Junior B squad to their first ever Sutherland Cup title in 2013, once again earning his place in the London, ON sports history books.
In recent years, Kelly moved to Toronto where he took his passion and ability to connect with people and shifted his career away from hockey to caring for seniors in need. He re-ignited his passion for the game as a volunteer coach in the North Toronto Hockey Association, where he encouraged all of his young players to play for something bigger than themselves. Above all else, Kelly believed in the importance of teamwork – both on and off the ice.
While Kelly will be remembered as a member of the now famous London Knights hockey team who left us too soon, to the friends, family, team-mates and kids who knew him best, they will remember a young man who had the back of every person he loved. Whether you were a team-mate; a player on his team, a 13 year old dreaming of making the NHL, a childhood buddy, a big brother or loving son, Kelly will be remembered in our hearts as a fiercely loyal friend.
A celebration of Kelly's life will be held on Sunday, April 28, 2019 at 2 p.m. at the Metropolitan United Church, 468 Wellington Street, London, ON. As an expression of sympathy, the family has asked that donations be made to Prusty4Kids.com, a charity started by his former London Knights teammate Brandon Prust. The charity's mission is to help kids experiencing pain through illness, long-term care and rehabilitation to live happier and healthier lives.