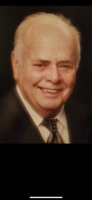 Raymond Courtland
Raymond Courtland passed away peacefully on May 12th, 2019 at the age of 92. Ray was born on December 14, 1926 in Montreal, Quebec. Ray was generous and kind man with a clever sense of humour. Ray was always quick to turn to math to solve life's concerns and entertain his friends and family. Recently, Ray especially loved entertaining his great grandchildren. Ray will be greatly missed by his ever-loving wife Mercy and family. Ray is a loving father to Nancy, Richard (Lorraine), Michael (Beth), Phil (Tess), Liz, Charles (Cindy), Steve (Kerry), Greg (Melissa); step father to Rendt, Vangie (Ed) and Edgar; grandfather to Christian, Eric, Erin, Chris, Bob, Dan, Jeff, Riley, Tyler, Kyle, Kristyn, Kevin, Matt, Everlie and Edreene; great grandfather to Ben, Harrison and Ellie.

As per Ray's wishes, cremation has taken place. Family, friends and those touched by Ray are welcome to join us for a 'celebration of life' at 4:00 p.m. on Friday, May 17th at the The Berkshire Club, 500 Berkshire Drive, London, Ontario.

If you are considering a memorial, please consider a donation to the Victoria Hospital in London whose staff were wonderful to Ray.