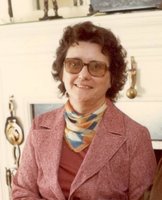 Marie (Boyce) MacVoy
With heavy hearts and sadness Marie Belle MacVoy passed away at 97 years peacefully on Monday August 26, 2019 at Chelsey Park Nursing Home, London, Ontario. Predeceased by her husband Everett MacVoy April 1988.
Marie leaves four son's, Charles, Dennis, Thomas and Joseph and spouses. Twelve grandchildren, (Peter deceased) 10 great grandchildren and four great, great grandchildren.
She will be missed by all with a special mention of the Chelsey Park Nursing Home staff for their care and consideration over the past 15 years.
A graveside service will be held at Woodland Cemetery, 493 Springbank Drive, London, On at 1130 am Saturday Sept. 14, 2019 - gravesite section W. 556. Funeral director will lead autos from office to W. 556.
In lieu of flowers, donations will be accepted by Alzheimer Society London Middlesex.
The MacVoy Family