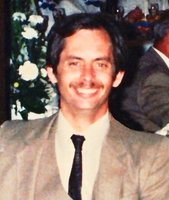 Gregory John Botosan
Gregory John Botosan
Passed away in his 66th year. Beloved brother to Eric (Lily), Guy (Marianne), and Jason. Remembered with love by his children Colette (John) and Aaron and their mother Deb. Loving grandfather to Aliyah. He will be sorely missed by all who knew him. We will always remember his smile, friendly outgoing attitude, sense of humour, and above all, his affection.
"And when the stream that overflows has passed,
A consciousness remains upon the silent shore of memory;
Images and precious thoughts that shall not be
And cannot be destroyed."
Online condolences can be expressed at www.woodlandcemetery.ca