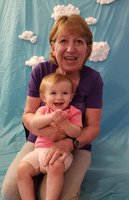 Diane Christine Jones
With profound sadness we announce the passing of Diane, our loving mother and grandmother, on October 12, 2019 in her 67th year.
Born in East Wirral, England, on January 27, 1953 she immigrated to Canada in 1979, and settled in Ottawa to raise her family.
Diane is survived by her son Kevin Cahill (Leah) and daughter Linda Cahill (Tyler), as well as her grandchildren Makayla, Emma, Jazmine, and Dylan.
Predeceased by her parents Harry and Jean Martha Jones.
Diane lived a life full of love, family, and friends. She enjoyed traveling to exotic places and learning about different cultures. She was a devoted mom to her kitties Bella and Garfield, an avid Harry Potter fan, and held a deep fascination for owls.
Most of all she loved her family and instilled in her children strong values that have served them well. She will be dearly missed and forever in our hearts.
A celebration of Diane's life will be held at the Hermitage Club, 1040 Commissioners Rd W, London, Ontario on Saturday, November 2, 2019 from 1 to 4 p.m. A cash bar is available.
In lieu of flowers, the family is asking for donations to the Canadian Cancer Society in memory of Diane. https://www.cancer.ca/en/donate/?region=on
Online condolences can be expressed at www.woodlandcemetery.ca