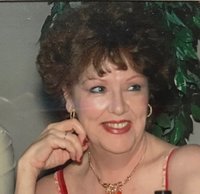 Elsie Myrtle Clowes
Elsie Myrtle Clowes, 75, born August 16, 1944, passed away peacefully in her home on Sunday, October 13, 2019, surrounded by family. Elsie characterized love and grace beautifully and lived a life full of faith.
Predeceased by her parents Jack and Estella Howson and sister Mary Pentley.
Survived by her husband Peter Clowes, daughters Terri Forbes (Karl), Shannon Stewart and step-daughter Tracy McInnis (Blair), her grandchildren Justin Stewart, Kelsie Stewart (Mike), Jade Patton (Fabio), Madison Stewart (Trevor), Rachel Stewart, Elitha Sims, Addrine Thomas (Zac), Collin McInnis (Brittany) and her seven great-grandchildren Adriel, Addison, Nash, Rhett, Gavin, Kyla and Skyler. Missed dearly by her brothers John Howson (Barb) and Bob Howson (Betty) and dear cousins Carol (Ginny) and Judy. As well as many nieces, nephews and cousins.
A Memorial Service followed by a time of fellowship in celebration of Elsie's life will take place Friday, October 25, 2019 from 6 p.m. - 8 p.m. at The Gathering Place and Revival Centre located at 858 Dundas St. London ON, N5W2Z7.
"When all is said and done, When my last songs been sung, I stand face to face with the one who gave it all for me. May all I have to show, be all that mattered most. Making your great name known. Let this be my only legacy. — The cry of my heart is to see all the ones I love, Loving my Jesus."
Online condolences can be expressed at www.woodlandcemetery.ca