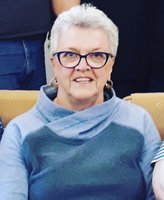 Chris Rothera
Memories
Of
Christine "Chris" Rothera
November 22, 1952 to October 23, 2019
Chris's sisters Hilary and Pam recall a little girl their father nicknamed Teeny Weeny from a popular song, The Itsy Bitsy Teeny Weeny Yellow Polka Dot Bikini. The family enjoyed traveling around Ontario and Quebec. They regularly visited the five maiden great-aunts in Lennoxville. A longtime family joke occurred when Little Chrissy asked, "Pam do you burp before you throw up?" Chris learned from her family how important people are and should be to each other. It is obvious that they prepared this loving woman that we all loved back.
She began her adult life studying at The Hamilton School of Nursing and then worked in Sarnia, Australia, Saudi Arabia, finishing her career in London from her beloved home on Whetter Avenue. Afterward she retired and established The Diaper Bank of London, Facebook because of her intense desire to serve others. It connected her to many individuals, agencies and churches, lending a hand to young mothers around the city of London.
And that is how she met our family. She had seen us attend the same church for several years. When she heard the announcement to prepare a meal for the family who had just had a baby girl, she prepared a casserole which she delivered to our home and properly introduced herself. We invited her in to eat it with us and my wife's sister and brother-in-law. She teased for many years about that small casserole fed five adults. Once she met you, she never let you out of her community.
Chris had many other friends. For years she arrived promptly at 5 am daily at the YMCA, only to sit on the front steps with a group as they chatted amongst themselves, growing acquainted with each other's lives, waiting for the facility to open up thirty minutes later when they could begin their workout. Bertha was one of the friends that Chris attached herself with while working out. Bertha quickly experienced Chris The Cheerleader who excitedly greeted you when you returned after being absent either a short or long time. She wanted people to know that they should commit themselves fully to managing their health . And that was how she lived, actively. Whether on bike tours in Europe, walking the El Camino in Spain and Portugal, or ziplining and performing physical labour during her mission mission trips to South America. Chris wanted people to better themselves and others.
During one of those mission trips she met a family with a baby who was physically challenged to the point that it impacted his lifespan. She connected with Baby-Brandon, his mother Sandra and his grandmother Ayday. She not only spent time with this little family during that trip, she also provided for his basic needs, and then she kept in contact the family enlisting our son James, a child himself, to pray for Brandon for the next two years of his short life. Chris would eventually make a return mission trip to see Brandon a second time before he made his way to be with The Saviour.
Chris took an active interest wherever she found herself. At work she personally related to her patients, praying with them and befriending them even after their treatment. In her neighbourhood she was known by many if not by all. Even the challenging individuals in her life were not turned away. Few people have a larger band of friends with whom she regularly kept in touch. Even during her treatment, she had a lengthy list of email contacts whom she encouraged to pray for her in a hopeful manner throughout the process. Those emails buoyed her and us simultaneously. She regularly offered a helping hand and graciously received help as well.
Christine Rosanna Rothera has transitioned to her Eternal life. She will be praising her LORD AND SAVIOUR, JESUS CHRIST, along with all the people that have gone on before her. She told her sister that she will be joining their parents. She will certainly be re-connecting with family members and old friends, rejoicing with the people she served as a nurse. As she said throughout Baby Brandon's short life, "he will be waiting to greet me in Heaven". Take comfort that she is very happy, and now waiting for you to join her there too. Take the necessary steps. Plunge headlong into life even as Christine always fully prepared herself. Talk with those you love. She wants to see you a second time.