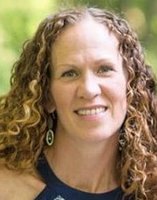 Karla Henny Corry Van Kessel
"despite knowing they won't be here for long they still choose to live their brightest lives - sunflowers"
~ Rupi Kaur, The Sun and Her Flowers ~
Karla Van Kessel, age 43, passed away peacefully at Parkwood Hospital in London Ontario. Karla was born in 1976 to JoAnne (Van Engelen) and Karl Van Kessel (1947-1976). She is survived by her devoted husband, Rob Whitmill and her two children, Ben and Tom. Beloved sister to Monique Van Kessel (Steve Howard), Kevin Van Kessel (1973-1985), and Kaylan Sharp and step-sister to Christy Droog. She will be deeply missed by her nieces; Micah Strom, Annika Strom, Sophie Howard and nephew, Joel Howard. She was adored by her step-father, Tom Droog. She is remembered fondly by her large extended family and many friends.
Karla grew up and attended grade school and high school in Forest Ontario. She graduated from Western University with a bachelor's in Sociology and English, a Bachelor's in Education, and a Masters of Library and Information Science. She worked for the Ivey School of Business, London Health Sciences Centre and most recently for Fanshawe College as the Director of Library and Media Services.
Karla was determined, driven and disciplined. She loved to set goals and then crush them. She was an avid athlete. She enjoyed running, climbing, swimming and cycling. She trained for triathlons, marathons and Ironmans. Through sport she met her soulmate, Rob. They married in Hawaii two days after she completed the Kona Ironman (2008). At age 39, she ran the Wineglass Marathon (2016) with her best time of 3:07. She enjoyed climbing and skiing and any other outdoor activities with her active boys.
In her quiet times she loved to read, paint and write.
Karla was diagnosed with cervical cancer in March 2018. Throughout Karla's cancer journey she has advocated for more accurate screening tests for cervical cancer which includes Pap testing as well as HPV testing (co-testing). Karla also strongly believes in patient access to clinical records. She has advocated for Cancer Care Ontario (CCO) to share the results of Pap testing directly with women, rather than directing them to speak with their doctor about the results. This direct access will assist women to advocate for their own health and perhaps prevent medical errors that can lead to missed or late diagnosis of cervical cancer.
During health and sickness Karla and her family have been surrounded by caring groups and individuals. Their decision to move to Canada to raise their kids was in part due to this support. Over the years Karla and her family have been supported by family, friends, the running community, LHSC, Fanshawe College, Matthews Hall School, Junction climbing centre, CTC obstacles, Boler Mountain, and many others. This support has come in many forms and has allowed their family to lead healthy and active lives despite these setbacks.
Karla and Rob wish to extend their thanks to the staff at the London Regional Cancer Program, Karmanos Cancer Clinic and the Parkwood Palliative Care team for the excellent care and compassion she received until her passing.
A celebration of Karla's life will take place at The London Hunt and Country Club on Friday February 21, 2020, from 4:00 p.m. - 7:30 p.m. All are welcome to this celebration of her life. Cherished memories of Karla will be shared at 5:30 p.m. There will be a kid friendly area in which to relax.
**Please NO DENIM ~ Club Policy**
In lieu of flowers, donations can be made to St Joseph's Healthcare Foundation of London and directed to the Colposcopy Unit. We will be establishing a Karla Van Kessel HPV Testing and Vaccination Fund in her honour to prevent cervical cancer by providing testing and vaccinations to anyone without coverage.'
Online condolences can be expressed at www.woodlandcemetery.ca