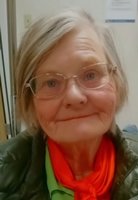 Linda Clarke Lunnon
1947 - 2020
Linda Lunnon passed away peacefully at St Thomas Elgin General Hospital on Feb 22, 2020 in
her 73rd year with her daughter at her side. She was loved and will be missed by her family,
children Andrea (Bob) and Keri (Brian). grandchildren Jacob, Rachel, Bobby, Dylan and Lucas,
siblings Janice, Terry and Steven nieces and nephews,,and all her friends at Port Bruce Manor.
Predeceased by her parents Arthur and Margaret Theakston. Special thanks to Dr Potvin and
the London Cancer Clinic, Port Bruce Manor, CCAC and St Thomas Elgin General Hospital for
the care they gave Linda during her journey with cancer . Interment at Woodland Cemetery and
family service at a later date. Memorial Donations can be made to Canadian Cancer Society
and CMHA in Linda's memory..