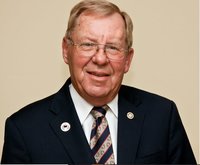 Douglas Burnard
Douglas (Doug) George Burnard
October 19, 1942 to April 3, 2020
Douglas George Burnard (Doug), born October 19, 1942, passed away peacefully at Parkwood Institute in London, Ontario, April 3, 2020, comforted by his family as he quietly ended his fight with cancer. Predeceased by his parents Mabel and George of Petrolia, Doug will be truly missed by his sister Margaret Wheeler-Guzi of Sarnia, nephews David, Doug, Daryl and Don; son Greg Burnard and daughter-in-law Michele of Thorndale; daughter Allison Bailey and son-in-law Joe Caruso of Brampton; and beloved friend Moneta. As loving Grandpa to Shelby, Sarah, Graeme and James, he gathered his final conversations for his grandchildren.
As a lifetime Rotarian, Doug served at the local, district, and international levels. Though he was always so proud of the work Rotary did throughout the world, he loved his local charities, especially presenting dictionaries to grade 3 classes as part of the Dictionary Program in Middlesex County and supporting Thames Valley Children's Hospital, Casting and Splints program. He recognized, with gratitude, how similar programs benefited him in his childhood, offering him the ability to do whatever he put his mind to. As a life-time member of Green Hills Golf and Country Club he focused diligently to use that ability to hit it straight.
In recognition of Doug's legacy of service through Rotary, the family asks you to consider donating to the initiatives he found so important, and dedicated so much of his life to, by donating to the London North Rotary Club Foundation. Funds will be distributed to all of the charities that Doug work tirelessly with: The Children's Health Foundation for the Casting for Kids program, Stevenson Camp for kids in need, the Dictionary Project, Youth Leadership Programs, the 'Oakbotics' Robotics team, and providing scholarships to up and coming community service students.
Cremation has taken place. A celebration of life will be scheduled at a later time, when social gatherings are once again permitted.
https://www.canadahelps.org/en/charities/london-north-rotary-club-foundation/