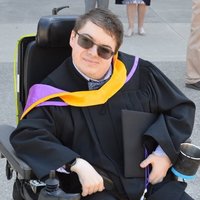 Bryce John Reid
It is with deep sadness that we share: Bryce John Reid passed away unexpectedly in his sleep on April 21, 2020. Bryce was born in Frankfurt Germany on December 4, 1997. His accomplishments were many in the short time he was with us: participated in cubs, scouts, First Robotics, musician (saxophone), student parliament including term as Oakridge SS Prime Minister, just to name a few. Bryce graduated in 2019 from Western University with a degree in BSc Computer Science and got his first job at Stellar Biome of London. Bryce had a love and passion for various types of fan-fiction, including the writing of his own, and creation of digital art and media. His kindness and genuine nature touched everyone he met. Bryce will be deeply missed and in our hearts forever.
Survived by his loving parents Marianne Bell of Sarnia, and father Greg Reid (Lori Edwards) of London, his proud and loving grandmother Myrtle Reid of London. Predeceased by his cherished grandparents Jo Bell, John (Chuck) Bell, and John Reid.
Treasured by his uncles and aunts Scott Bell (Lori) of Bright's Grove, Rob Reid (Barb) of Princeton, Scott Reid (Sandy) of London, Chris Reid (Denise) of Calgary, Pam Reid of Calgary. Cherished cousins Taryn Barnes (Matt, daughter Ellie and son Liam) of Bright's Grove, Chelsea Bell (Ryan) of Sarnia, Heather Reid (Glen) of Paris, Liz Reid of Burlington, Kayla Reid (Dan) of London, Jake Reid (Brittney) of London, Allison Reid and Adam Reid of Calgary.
Adored by his extended family Joel Edwards (Jenny) of Waterloo, Michael Edwards (Alison and daughter Adalynn) of Aylmer, Jim and Ruth Fitzsimmons of London, and Ada Edwards of London.
We wish to recognize the care, support, and friendship of Dan Caramignoli. Bryce will be fondly remembered by his friends, fellow students and teachers, neighbours, and online community.
Cremation has taken place. Arrangements entrusted to Woodland Cemetery, 493 Springbank Drive, London. A private family Celebration of Life to follow at a later time. If desired, donations may be made to Jesse's Journey.
https://www.jessesjourney.com/donate/
Online condolences can be expressed
Bryce was passionate about All things Harry Potter:
In this house
We believe in magic
We use the marauders map to guide our way
We board The Hogwarts Express at platform 9 ¾
We are Beaters, Keepers, Chasers, and Seekers
We know the snitch opens at the close and
Lost things have a way of coming back
We know the sorting hat has never been wrong
The ones that love us never really leave
We remember that we all have magic inside of us
Because in this house
We do Harry Potter! Always