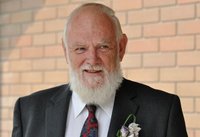 Arthur Harold Postma
Arthur Harold Postma

July 15, 1942 – July 3, 2020

Born to Louise and Herman Arjen Postma in Pembroke Ontario, Arthur grew up in Toronto, was an athlete and a lifeguard, and during his teenage years encountered Jesus Christ and committed his life to Him. He went to London College of Bible and Missions where he met and married Elizabeth Robinson. They had five children, Warren, Rachel, Jonathan, Nathanael and Naomi, and Arthur and Elizabeth remained close with their foster daughter Robbynn.

Arthur was also a wonderful grandfather to his 22 grandchildren, and counting. He was well known in his church community as a bible study leader, especially for teaching Romans, and Hebrews to groups of men who met for breakfast, bible study, prayer and fellowship. His children remember him as a loving father, passionate Christian, scripture scholar, paddler of his own canoe, lover of nature and as an ardent dog fancier. The family lived in Cochrane and Sault Saint Marie for brief stints, and then moved back to London Ontario where they put down roots. Arthur worked at Victoria Hospital (London Health Sciences Center) as a Social Worker. At this time the family takes refuge in Jesus and in the comfort of these words from the Epistle of Romans much beloved by Arthur:

We do not know what we ought to pray for, but the Spirit himself intercedes for us through wordless groans. And he who searches our hearts knows the mind of the Spirit, because the Spirit intercedes for God's people in accordance with the will of God. And we know that in all things God works for the good of those who love him, who have been called according to his purpose. For those God foreknew he also predestined to be conformed to the image of his Son, that he might be the firstborn among many brothers and sisters. And those he predestined, he also called; those he called, he also justified; those he justified, he also glorified.

We love you Dad, and we will see you in Heaven.
Memorial donations can be made to: https://www.msccanada.org/donee/covid-19-fund/