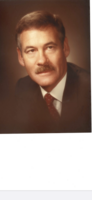 Terrance O'Neill Callon
TERRANCE O'NEIL CALLON
Terry passed peacefully at People Care at Oakcrossing Long Term Care on Tuesday, July 14. He was in his 86th year.
Born September 08, 1934 in Toronto, his birth mother Rita O'Neil named him Henry Clay O'Neil. He was adopted at the age of four, by Flora and Ted Callon, given his present name and was raised in Orillia, Ontario.
After graduating from high school Terry articled first with the Ontario Department of Lands and Forests and then finished his articles with the Ontario Department of Highways. He was commissioned an Ontario Land Surveyor on July 6, 1959.
He and Carmen Bennett (2015) were married in Toronto in 1958.
After postings in Northern Ontario he began private practice in London, Ontario in 1967 as T.O. Callon Co. Ltd., Ontario Land Surveyors, continuing to serve clients until his retirement in 1994 from (then) Callon Dietz Co. Ltd.
In 1982 he and Anne (McKim) Rowell were married in London.
In 1996, during his "retirement", Terry qualified as and was commissioned a Florida Land Surveyor.
Terry and Anne enjoyed many post-retirement years living in Florida, in Mexico, and on Vancouver Island, returning to London in 2011.
Terry is survived by his wife Anne and children Suzanne Callon, Catherine Belcastro (Toronto), Patrick Callon, and Linda Callon(Calgary) as well as stepchildren Dawn Bathie (Winnipeg), Heather Welsford (Brentwood Bay, BC), and Andrew Rowell.
He and Anne share 14 grandchildren and 6 great grandchildren.
He is also survived by birth siblings Donald Freeman, Patti Donoval, Brenda Dinelle and Michael Freeman.
Cremation has taken place.