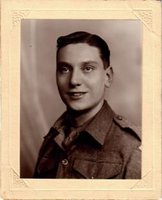 Bertie George Hurrell
September 19, 1925 - August 7, 2020
Bertie George Hurrell of London, Ontario passed away peacefully on August 7, 2020.
Bertie is survived by his loving wife of 57 years Patricia (Hall). He was the proud father of John, Stephen and Leanne (Andrew). He will be greatly missed by his grandchildren Magdalyn (Dylan), Aidan, Cailen and extended family. He was predeceased by his father Bertie George Hurrell, mother Harriett Mortimer and brother John Hurrell (Audrey). He will also be missed by Diane Dunkley, her husband Geoffrey and their children.
Prior to his journey to Canada, Bertie served in the British Army. In the latter years of WWII he was deployed by ship to India. While aboard the ship He viewed many ports of call. This sparked a desire to explore these lands to see what laid beyond.
The first step in his journey was to emigrate to Canada. His previous training in an aircraft facility led him to seek work in the sheet metal industry. He arrived in London, Ontario and was soon employed by Miller Brothers Sheet Metal where he worked for many years.
It was at a YMCA dance that he met the love of his life and future bride Patricia. Early in the marriage they formed a strong partnership both in business and in life. Together they formed B.G. Hurrell Sheet Metal in 1971. The business continued to grow and has remained at its same location to this day. His son's, John and Stephen proudly continue to successfully run the business.
Bertie's passion for travel led him to explore many countries fulfilling the dream he had aboard that ship many years ago. As a couple Bertie and Patricia travelled and formed memories that lasted a lifetime. Berties children have fond memories of yearly trips to Florida and fun filled summers camping in their trailer.
Bertie and Patricia's love of dancing was an integral bond in their relationship. They danced all throughout their marriage. Dancing brought so much fun and joy to the couple. They formed lasting friendships that have stood the test of time.
Bertie and Patricia were also avid campers. Every year they packed up the trailer and danced their way across the country. They were avid members of square dancing groups that often gathered for fun filled weekends camping. This often included putting on skits, dressing up in costumes and having loads of fun with their fellow dancers.
Bertie expressed his creativity through artwork in stained glass. Many of his pieces are proudly displayed in the homes of his friends and family. He had a passion for music, good food, red wine and time spent with family.
Bertie and Patricia's marriage was one of great love, friendship and loyalty. They were united in all decisions and were rarely apart. Their love for one another had a strength that never wavered.
Respecting Bertie's wishes, cremation will take place with Woodland Cemetery.
There will be a private memorial service held at a later date. The family welcomes donations to the Boys and Girls Club of London.