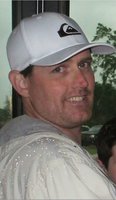 David Leonard Herbert "Dave" Murray
It is with very heavy hearts that the family of Dave Murray, 49 years of age, born and raised in London Ontario, announce his passing on August 9, 2020, from an unexpected and severe brain aneurysm at Victoria Hospital. Dave will forever be known as a fun loving and generous person, who was taken from all of us too young.
Dave (Crock) was born on December 11, 1970, in London. Survived by his parents, Bill and Marilyn; his wife, Michelle; children, Holden and Grace, and brother Darryl. Dave was a kind and generous man, who had a long history of putting others before himself and was loved by many. Throughout his life, he enjoyed hockey, golf, basketball, fishing, walks, hanging with friends and endless other activities. Most importantly, Dave was a very loving and caring son, husband, father, brother and friend. Family was extremely important to Dave and he really cherished every minute with them, always told them he loved them, and that he was so proud of them. Dave dedicated his life to his wife and children and was very active in his kids' sports and lives. Dave was also a great cook who could make something out of nothing. He was also a handyman, self-taught mechanic, Mr. Fixit, a coach, an athlete, a practical joker, and so much more. Although he had chronic pain over the years, he never let that stop him. Positive, strongminded and determined, Dave never let anything get in his way. Through it all, he could still find the time to smile, crack a joke, and care for others.
A private service will be held at Woodland Cemetery in London next week and the family will plan a celebration of life in the future.
Dave, a giving man to the end, was an organ donor, and able to give life to 4 recipients, and the gift of sight to other recipients. He has left behind a legacy of showing that kindness and thinking of others, matters. Rest in peace, Dave, our loving son, husband, father (daddio), brother, nephew, cousin and friend.
The family wishes to thank those who have extended their love and support to Dave's family.
Donations can be made in honour of Dave, to the Brain Aneurysm Foundation of Canada, or to find out more about being an organ donor, visit, giftoflife.on.ca.
We will always love you and you will forever be in our hearts.
Death leaves a heartache no one can heal,
love leaves a memory no one can steal." – Unknown.