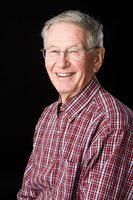 Reverend Elmer Leon Cassidy
On Sept 12, 2020 in the early morning Reverend Elmer Leon Cassidy, age 94, was promoted into the arms of his Lord and Saviour. Elmer, born April 28, 1926, lived a life that was a testament to his faith in both thought and deed and he was a constant example of living a life pleasing to the Lord. His family and others who knew him well are comforted knowing he was greeted in Glory with "Well done, good and faithful servant."
Elmer is survived by his wife of 70 years, Marjorie Cassidy (nee Ross) and his children Mark & Anita Cassidy, Barb & Norm Tiffin, and Donna & Doug Ward. He was blessed with and loved by 11 grandchildren and 24 great-grandchildren and many nieces and nephews. They will miss his steadfastness, self-discipline, faithfulness, and willingness to help his family in every situation.
Elmer & Marj served as missionaries for 8 years in Costa Rica & Chile, then at Tyndale University for 25 years, and established a planned-giving ministry at Compassion Canada over 13 years.
Elmer's athletic accomplishments are numerous and include Grey Cup Champion, Ontario Open Golf Champion, and OHL Junior "A" hockey player. His early training was as a metalworker and his gift for fixing virtually anything was legendary, willingly sharing his knowledge and expertise to anyone who needed it. Rarely sitting still, he built a cottage virtually by himself for he and Marj from the ground up after his retirement so she could paint all summer overlooking Georgian Bay. After an early life in Saskatchewan and Ontario, Elmer learned how to live frugally but happily, always tithing and willingly sharing whatever he had - always returning what he borrowed in better condition than when he got it.
To God be the Glory for a life well lived. We will miss you Dear, Dad, and Grandpa.
There will be a private family memorial service. The family wishes to thank the nurses, PSWs and physicians for helping to make his last days comfortable. In lieu of flowers, please consider donations to Compassion Canada (www.compassion.ca). A note to the family of how Elmer may have touched your life would be most welcome.