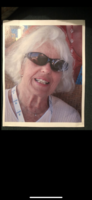 Elizabeth Carmichael
Elizabeth G. Carmichael
On December, 22nd, just a month shy of her 95th birthday, our mother passed away at Mount Hope, in London, ON.
Elizabeth is survived by her children; Sally, Susan, Jennifer, Jim, Lesley, Nancy and John.
She was dearly loved by her grandchildren; John and David Burgess, Andrea and Jordan Clarke, Ashley, Keegan and Liam Carmichael, Damon, Aeryn, and Keely Pfaff.
Fun loving GG to Mackenzie, Morgan, Mason and Marley Burgess of Fayetteville, GA., Mia and Madeleine Burgess of Pincourt, QC., James and Hannah Clarke of Ilderton, ON., Aoife, Beau, Greta and Beckett Blackington of Portsmouth, NH.
She is survived by her brother Douglas Bodle and was predeceased by her husband G. Caven Carmichael (1994).
She is fondly remembered by both the in-laws and the out-laws: Alan Bryant, Michael Carter, Lindsey Carmichael, Ken MacDonald, Stephanie Ceravolo- Burgess , Jayne Mattier, Brianne St. Clair , Todd Blackington, and Jamie Boulerice.
The family would like to extend our overwhelming gratitude to our sister Lesley who was devoted in caring for our mother for the past four years. We would also like to thank Tilley DaSilva whose loving care and friendship was a great source of comfort to our mother, as well as to the dedicated staff of Mount Hope.
Our mother was a truly talented, creative, intelligent, stylish, accomplished and above all resilient woman. She had a wonderful sense of humour which she managed to retain at times, in spite of her difficult circumstances.
During the Covid restrictions the kindness extended to our mother by Kimberley Baran of Health Records, and Donna Thompson PSW, St. Joseph's Health Care, went above and beyond and assured us that she was not alone.
Cremation has taken place and a private family service will be held at a future date.
Those wishing to make a donation are asked to consider CNIB.
To leave online condolences please visit www.woodlandcemetary.on.ca