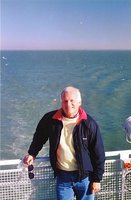 Peter Howard Sturdy
STURDY, Peter Howard
Peter left us on 26 December 2020 for his next big adventure, after spending a wonderful Christmas surrounded by his family. He leaves his sons Rory (Sara) and Devin (Sean), his sister Carole Sturdy in England, his wife Kelly Culver, and dear friends and family around the world. Peter approached cancer with a quiet dignity and showed us all how to be a role model, continuing to live life large, well beyond all our expectations! Peter's family considered it a privilege and an honour to be on that journey with him, right up to the very end. Cremation has taken place. Due to COVID restrictions, a celebration of a life well lived will take place in the spring (details to follow). Peter Sturdy spent 35 years working in the Provincial Parks program in Ontario.
In his own words, "during that time I was so fortunate to travel to many locations in Northern Ontario and see the wonders of the province's rivers, lakes, and landscapes. I spent the last part of my career here in Southern Ontario with its unique and special habitats, Carolinian forests, prairie grass remnants and magnificent dune ecosystems bordering the Great Lakes. It was such a privilege to work in the Parks program where we tried to balance the demand for recreation with the need to protect some of the most unique, rare, and special places for the people of Ontario and future generations. When I was very young, I was so lucky to travel to many parts of the world and visit some of the great palaces, cathedrals and monuments dating back in history for many hundreds, if not thousands of years. Over my career and life in Ontario, I grew to believe that many of the parks and special landscapes were our equivalent to those palaces, cathedrals, and monuments".
In view of Peter's passion for Ontario's natural spaces, the family is recommending that donations be made to the Ontario Parks system in Peter's memory (such as www.ontarioparks.com/donate, or directly to your favourite Ontario Provincial Park).