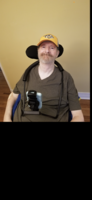 Harold Billy "Bill" McCarthy
McCARTHY HAROLD (BILL)
It is with profound sadness that our family announces the passing of Harold Billy (Bill) McCarthy of London, peacefully in his home at the age of 75 on Feb 14/2021.
Bill, was predeceased by his beloved wife Carolyn who passed away on December 6th 2019. Bill was also predeceased by parents, Gordon and Margaret McCarthy and brother Ronald.
Bill was a dear brother of Bunny (Bruce) of Stouffville, Margret Anne of Stouffville,
Robert (Jane) of Sarnia, Gordon (Mimi) of Elliot Lake.
Bill was a former Toronto Police officer (55 Division), Teacher and Computer Programmer. He also was an avid Toronto Blue Jays fan and back in 1983 he went to every home game with his nephew David when they both lived in Toronto. Bill also loved to watch hockey on TV and was a fan of several teams. When his freak accident 13 years ago left him a quadriplegic, he decided he wanted to help others live the best quality of life possible. He had a passion to write programs for "Amazon Alexa" to help other disabled people who were living on their own.
With the sudden passing on his wife Carolyn in December of 2019 and no family within hours of London, thanks so very much to Tara (LHIN), he was allocated a home care spot with Cheshire Independent Living so he could stay living in his own home. Thanks also to Susan (LHIN) for all your effort and the great staff at VON ESHIFT who took care of him in his final days. Cheshire provided PSW services that allowed Bill to live alone with great support. Our family would like to acknowledge and thank them for all the great care they provided. He really appreciated: Maxine, Anne, Kim, Joseph, Tammy, Shannon, Dianne, Shu Min, Jeffrey, Mark , Kyla, Patricia and Shine. VON provided the excellent homecare nursing with a special thanks to his core team of Pawel, Florence, Carlie and Sara that took great care of him and especially Natalie who was there until his last breath.
Special thanks to Mervi, Sylvie and Ken for making many meals and deserts that filled a freezer or two this past year. He will be missed by his great friend Mal.
He will also be sadly missed by his advocate and nephew David in Ottawa, who did everything he could to ensure his favorite uncle had the best of care possible while respecting his wishes of living at home. David was there with him as he took his final breath and peacefully slipped away to be with his Valentine Carolyn!
There will be no funeral service held due to the current pandemic but cremation will take place at Woodland Cemetry.