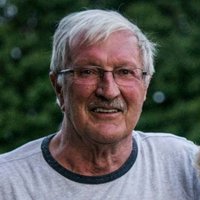 Murray Thompson
Murray Alfred Thompson
Born December 2nd, 1941
Passed on March 1st, 2021
Murray passed away, at home, peacefully and surrounded by his family after an eight year battle with cancer. Loving husband to Barbara for over fifty seven years. The most amazing and adored Dad to Shelley (Bob), Tracey (Mike) and Bobbi (Ram). Proud Papa to Dylan, Adam, Connor, Chris and Carleigh. Big brother to Linda (Ken) and Perry (Linda). Uncle Murray to many nieces and nephews. Son of the predeceased Clara and James Thompson.
Murray will be remembered as a man who loved life, laughter and his family. He was a master of joke telling and puns.
Each of Murrays girls has a lifetime of memories. Family trips and shared stories of his life growing up in New Brunswick along the St.John River. Day trips, fishing, picnic dinners in Springbank Park, playing catch and baseball, watching ball games, riding the waves after a good storm at the lake, card games, bocce ball, fish fries and campfires. He would wake his girls up at night to watch lightning or to just gaze at the stars. For the grandkids; two words. Papa's gravy!
Murray had many friends. From his time in the Royal Canadian Air Force, to his decades working for the Brewers Retail, to his pals at the ANAF Club (at Branch #393 and #229), and his friends at Springlake RV Resort; Murray made friends wherever he went. They will remember him for being a stand-up guy, for his love of laughter, and his often warped sense of humour.
Our family would like to thank Dr. Martha Louzada, or as Murray called her, Dr. Love, for her exemplary care. She played an important part in our family over the past 8 years and he adored her as we all did.
Also playing an important part in our family was Carrie Ielapi--Wonder Nurse! We would like to express our most sincere thanks and appreciation for her loving care of him until the very end.
A celebration of Murray's life will be held at a later date. In lieu of flowers, donations can be made to the London Regional Cancer Program care of LHSF.ca.