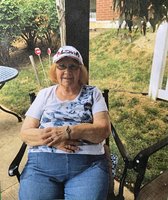 Katherine Rhyno
E. Katherine (Kathy) Rhyno (nee Falconer)
March 12, 2021 McCormick Home,
London, Ontario (1941 – 2021)
On Friday, March 12, 2021, Kathy passed peacefully from our presence. We held her hands, stroked her brow, prayed silently, laughed, shed some tears, and filled her room with as much love as we could while she lay quietly seeking solace with her beloved husband, Bob (2016). Kathy will be greatly missed by her children and their spouses, Michelle and Mike Squire, Dawn and Lloyd George, and Robert Rhyno and Tammy Mellows. She was the special and loving grandma of Melissa Atwater and Matthew Smith, Kiera Squire (Adam), and Jared and Luke Boland Rhyno. Predeceased by grandson Jordan Squire. She was the dear sister of Peter (Faye) Falconer, Joyce Crawford, Douglas (Mary) Falconer and was predeceased by her brother Charles Falconer (2017). Her very special lifelong friends, honorary aunts both, are bereft of her friendship – Clarice McEachren (Boutiliers Point, NS) and Betty Graham (London). Her east coast roots and connections were strong and she was often heard telling tales of Nova Scotia, her favourite playlist was of Nova Scotian music (thanks Sabrina) and her memories were vivid. Her love of travel was unbound and she could be packed and ready to go at a moment's notice. Her journeys were epic and she and Bob enjoyed weeks and months on the go in various locales across the globe. We are grateful for the care, compassion, understanding and loving support she, and we, received from McCormick Home in London where Kathy spent the past several months. Thank you to all of the staffing groups at McCormick and special thanks to those on Maple Grove and Memory Lane who were most involved with Kathy's care. At Kathy's request cremation has taken place and a private graveside ceremony will take place at a later date to lay both Kathy and Bob to rest. In lieu of flowers, donations in Kathy's memory may be made to the McCormick Home or McCormick Dementia Research.