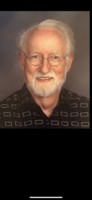 Joseph Aloysius Corcoran
It is with great sadness that we share the passing of Joseph Aloysius Corcoran on the morning of March 14, 2021, in his care home in London, Ontario. Joe was born on October 20, 1937, to Viola and Joseph Corcoran in the Bronx, NY, a fact of which he was very proud, and he spent his childhood in Scarsdale, NY, living with his parents and older sister, Mary Bergan (née Corcoran). Joe leaves behind his two children, Kate (Doug) and David (Andrea), and a wonderful granddaughter, Madeleine. Joe also leaves behind his first wife and mother of his children, Carolyn Corcoran, and his second wife, Gaye Burnham. Joe attended the University of Notre Dame and went on to pursue his PhD at Indiana University. He became a professor at St. Cloud University in Minnesota and spent several happy years there. He moved to Canada with his family in 1974 to join the faculty at Western University in the Department of Communication Sciences and Disorders, and he remained on faculty until his retirement. Joe found particular meaning in his teaching and work with graduate students
Joe was a deeply spiritual man. He spent several years as a monk at Mount Saviour monastery, and his religion remained important to him throughout his life. In recent years, he was an active member of St. Aidan's Anglican Church and the Church of St. Jude's, and he often spoke of the kindness and support of these communities.
Joe had a great mind and loved to talk, tease, and share trivia with those whom he loved. He was also known for his deep appreciation of classical music, photography, good food and wine, and single malt scotch. He enjoyed nothing more than sharing a meal with friends and family and talking about meaningful experiences from their lives. Joe was also an advocate for improving the treatment of mental illness, and he was open about sharing his own struggles with bipolar disorder in the hopes that it would help reduce the stigma of mental illness. Joe had a wide circle of friends from different parts of his life, and he will be missed by many.
Following his wishes, Joe will be cremated. Arrangements have been made through Woodland Cemetery. A virtual celebration of life will be held in the coming weeks for family and close friends with a church service taking place at a later time. Those interested in attending the virtual celebration of life are asked to submit the following information.
https://docs.google.com/forms/d/e/1FAIpQLSdCAq6v2HZ-f8qxesCVLg4d0eZ0ozY3GBaloRTPuRqD9FN_9A/viewform?usp=sf_link.
In lieu of flowers, donations can be made in Joe's name to the Canadian Mental Health Association(https://cmhamiddlesex.ca/donate-now-tribute-gift-cmha-middlesex/)or the Centre for Addiction and Mental Health(https://give.camh.ca/site/Donation2?df_id=2466&2466.donation=form1).