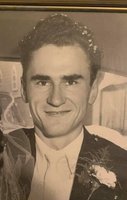 Steve Pletko
STEVE PLETKO

Steve passed away on March 20, 2021 at his home in London, Ontario - His favorite place in the whole world. He was in his 87th year. Beloved husband of Helen Mary (nee Kozluk). Loved father to Stephen and Cathy (Jere). Caring grandfather to Kyla and Jake. Remembered by his extended family in British Columbia, including sister Francis Koval, sister Vera Sarvi, and his nieces and nephews. Special friend of the Iltan family of London, Ontario.

Steve was born in Northern Ontario on May 11, 1933, and married the love of his life, Helen Mary Kozluk, on June 12, 1954. He studied at the University of Windsor and the University of British Columbia. He worked for Texaco for most of his life and was involved in creating digital solutions for the automation of gas stations across the country.

He was an intelligent man with a quirky sense of humour, whose passions included tools, woodworking, computers, gadgetry, music and cooking. His tool collection was impressive, and could be found around various areas of his home at all times. He adored his grandkids, spending countless hours playing video games with his grandson Jake and at the park with his granddaughter Kyla.

He was affectionately known as "Inspector Gadget" by those who witnessed his skills in action; He once wired his sliding glass doors to open up automatically when the floor panel was stepped on, making entering the home reminiscent of a supermarket. He could make you laugh out loud with his sense of humour, even if you were mad at him.

He was laid to rest in a private ceremony on March 27, 2021 at Woodland Cemetary in London, Ontario, near the site of his father, Michael Pletko.

We miss him, and his incredibly infectious laughter, so much.