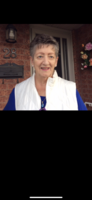 Lana Marie McMullin


The McMullin family, with great sadness and loving memories, announce the death on Monday, April 5, 2021, of the lovely Lana at the age of 78, using the new MAID protocol, at the end of an exhausting 15 year fight with multiple cancers and lymphedema. Lana is survived by her high school sweetheart and husband of 56 years (Don), her two children, Wayne (Cathy) in Collingwood, daughter Michelle MacArthur (Dean) in Stoney Creek, grandchildren Ryan and Allison McMullin, sister Karen Doyle (Terry), two nieces and a nephew. She was predeceased by father Ben Pistone, mother Gladys, and brother Lloyd. Born in Sydney, Nova Scotia, she was a graduate of Holy Angels High School and Cape Breton Business College.

Newly married, and moving to London with Don in 1965, she soon and enthusiastically began her work-at-home career as a sports mom - lots of hockey, football, swimming, track, etc., sometimes even cheering for referees and umpires. As the children aged, she enjoyed part-time employment with Towers and Pennington's.

Lana enjoyed travel with jaunts to Colombia, Cuba, multiple trips to Grand Cayman, Mexico and the southern U.S., as well as to Cape Breton and P.E.I. She was always thankful for the help of the medical professionals, too many to mention, who worked so hard to improve her life.

Lana's preference was to avoid a funeral and a celebration of life. Cremation has taken place, and her ashes will be spread in the St. Clair River, hoping to spend the rest of eternity trying to get back to Cape Breton. If so inclined, please make a donation to the Canadian Cancer Society.
Online condolences accepted at www.woodlandcemetery.ca