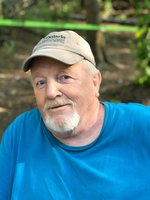 Arnold Baldwin
Arnold Sidney Baldwin passed away on Saturday, May 1, 2021 surrounded by his family and friends. Predeceased by his beloved father Sidney Baldwin and mother Sarah Baldwin (Douglas). Forever loved and cherished by his wife of 51 years Linda Baldwin (Srigley); his children Michelle Baldwin (Peter), Shawna Lewkowitz (Michael) and Drew Baldwin (Michelle); along with grandchildren Kelsey (Brad), Cori, Ainsley, Meredith, Olivia and Ryan, as well as mother-in-law Rena Srigley (Dawdy). Fondly remembered by his closest friends Randy and Carol McIntyre, Jayne Miller, Lindsay Pierce and family, along with Ian and Kaaren Smyth. He will be missed and is loved by his extended family that span B.C, Alberta and Ontario.
Arnold was born in Calgary, Alberta, he studied geology and went on to work at Inco in Thompson, Manitoba before moving with his family to London, Ontario. He was a painter and local small business owner. Arnold was known to love a good chat with family and friends and had an overwhelming sense of pride for his family. Arnold cherished family traditions and looked forward to the annual Christmas tree cutting day, camping at MacGregor Point and many holiday dinners shared with loved ones. He was affectionately called Boppa and Gramps, knew how to hug you like he meant it and could often be seen giving a thumbs up as a show of support. Arnold was an avid fisherman and we like to think he is now somewhere fishing with his best buddy Brian Miller, who passed away 8 years ago.
We would like to extend a special thanks to Alex Hammond, a nurse and family friend who helped provide guidance throughout the process and made special visits. Much appreciation to the incredible staff at London Health Sciences Centre (LHSC) who cared so lovingly for Arnold throughout his illness and in his final days; including Drs Nichols, Sathyia, Young; Peter Wong; the palliative team; and, the many nurses and PSWs on the 5th and 6th floors. A family service will be held at a future date. In memoriam donations can be made to Mission Services of London https://missionservices.ca/give-online/ and London Regional Cancer Program at LHSC https://www.lhsc.on.ca/london-regional-cancer-program/ways-to-give.