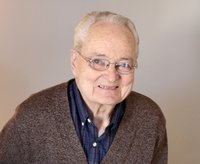 Bryan Harrington Burwash
May 25th, 2021
Non illegitimi carborundum, translated (loosely) from Latin as don't let the bastards wear you down, was one of the many life-insights, and memorable phrases, provided to his family and friends during his much-loved life. Always an optimist and lover of a good laugh, a Maine lobster, a jazz drum beat, and a well poured Manhattan, his calm demeanor and quick wit were invariably exactly what you needed, exactly when you needed it.
Those that met him briefly, and those that knew him well, would all agree on a few endearing characteristics… he was kind, gentle, thoughtful, and full of love, even if he didn't always profess it. Most of all, his focus was family, where he excelled like no other.
Bryan Harrington Burwash passed away peacefully, Tuesday May 25, 2021, at the age of 85 with family at his side, at St. Joseph's Hospice, London, after a brief and stoic battle with cancer. For those who joined him on his 85th birthday, only weeks before his death, walking on the beach in Port Stanley, a place he loved, we will forever remember the joy he expressed about the love he had for family and friends.
A respected executive at Bell Canada, as were his father and grandfather before him, Bryan retired in 1993 to focus on other passions, including golf, bowling, mastering bbq chicken, and bird carving, which he was exceptionally good at.
The pre-Bell Canada years included time spent as a jazz drummer and on Canada's northern DEW (Distant Early Warning) Line, installing radar systems to detect enemy bombers attacking over the North Pole. Summers at Lake Louisa, in Quebec's Laurentian Mountains, would result in his meeting his wife, Pat, of 46 years, an incredible mother and the best cook many have ever known. Post-retirement life found him acting, literally and figuratively, as a Standardized Patient at the Schulich School of Medicine and Dentistry, at Western University where he met his love, and wife of 15 years, Patricia.
Beloved husband to Patricia Black and to his late wife Pat (Bess to most). Loving and fiercely proud dad of Nancy (Steve) Elliott, Karen (Kevin) and John (Angela). Adoring Gramps of Kim (Tom), Jen (Cameron), Keith, Jack and Carter. Great-gramps to Rosie, Violet and Mason, and special stepfather to Kirsteen Winn (Keith) and family.
Following his wishes, cremation has taken place, and a small family gathering is planned at his burial site. Once COVID restrictions lift, an event celebrating Bryan's life will be communicated, so start chronicling your best stories, jokes, phrases, and limericks, as we know there are many.
In lieu of flowers, memorial donations gratefully accepted for St. Joseph's Hospice, London, Ontario, or a charity of your choice.
Online condolences may be sent to Woodland Cemetery and Crematorium.
The family wishes to thank Dad's general practitioner of many years, Dr. Jeff Spence, members of the Palliative Care Outreach Team (especially Nurse Carrie and Dr. Rubab), as well as all his nurses and physician, Dr. Gurland, at St. Joseph's Hospice, for their loving and sensitive care.
Let us all raise a beverage to toast a wonderful father, husband, grandfather, great-grandfather, sibling, and friend, as we say goodbye and wait for him to take the damn family dinner picture, while the food gets cold.