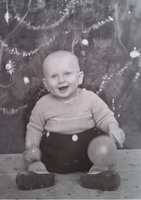 Michael Alexander Sowpel
Michael Alexander Sowpel (April 15, 1959 to June 2, 2021)
Michael died unexpectedly in his London, Ontario apartment and has gone to his permanent home to be with his Saviour, Jesus. Pain free at last!
"Because I live, you will also live." John 14:19. This is the promise from Jesus himself! The best is yet to come!
Michael was predeceased by his parents Paul and Olga. Youngest of five, he leaves behind 4 sisters: Ruth Sowpel, Dinah Stroich, Annie Eyssen and Lily Taylor. He will be missed.
Cremation has taken place. Family and friends graveside service will take place on Thursday, June 17th 2021 at 1pm at Woodland Cemetery in London Ontario.
Michael Alexander Sowpel (April 15, 1959 to June 2, 2021)