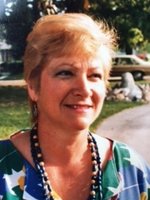 Joan Selwyn
Obituary of Joan Selwyn
Peacefully on 21 June 2021, a resident of McGarrell Place, in London ON; formerly of Don Mills, Ottawa, and Windsor. Beloved mother of Dean (Jane) and Debra (Gerald), sister to Janis (Curt) and Nancy (Stewart). Missed by grandchildren Jessica, Jaclyn, Josh and Amy; whom she adored.
Joan grew up in Windsor, where she has shared stories of her childhood and teen years, and of her work in Detroit. She moved to Ottawa as a young adult for a brief time, where motherhood began for her, and settled in North York in the 1960's. Joan was an active Home and School member in the Don Mills community, and the neighbourhood skating teacher for many years.
She also loved her bridge group, "the Joans and Annes" of Paperbirch. Her summer hobby was sailing, a member of the Toronto Sailing & Canoe Club. In 1979, Joan represented Canada in Torquay Bay, U.K. for the Albacore World Championship.
The family moved to London in the 1980's where Joan's enhanced love of gardening resulted in her invitation to participate in London's Garden Walk Home Tours in 2004. Sailing continued out of Kincardine Yacht Club, where summers were spent racing several larger boats, and took her to the North Channel every summer. Joan's second career with the Ministry of Attorney General, took her into retirement. She adored her colleagues at the courthouse, and the adventures and challenges that this work brought to her life.
Health challenges in later years meant a move to Chelsea Park, where in good Joan fashion, she once again connected to a great bridge group and made many more friends. Her final home was at McGarrell Place (Ivey Lane), where the adventures continued and she would share stories and develop even more friendships.
Joan enjoyed a cold beer on a hot day, the challenge of a sewing project, a mystery garden project, and the sun on her face while the wind stirred her hair. She lived her life filled with laughter, friendship, and the love of her friends and family. She would share, "I have had a happy life". Her family meant everything to her and she adored them immeasurably.
Cremation has taken place and a scattering has occurred in the gardens of Woodland Cemetery. The family would like to thank the staff of Ivey Lane, and the care of Dr. Karen Lo. Expressions of Sympathy are welcomed through Woodland Cemetery. Donations, should you choose, to the Parkinson's Association in London.