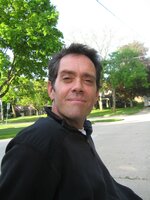 William Robert Alexander Downe
How do you mark a life that covered so much ground? Bill lived life all in, carried by a terrific sense of humor and a warm laugh, making friends easily and possessing an infectious joy. Whether he was tearing up the neighbourhood as a kid, dancing like crazy listening to a new band, running a long way to get home after a scintillating conversation and a few beverages, or being silly with his little girl in a three-legged race, Bill didn't hesitate to embrace the moment. He thrived out of doors and was a force with an axe or shovel. He was a good listener and valued confidant. He loved sharing a good meal, never missing an opportunity to get his hands dirty in the kitchen. Bill disdained inequality or meanness, and he fought to level the playing field through the choices he made in life. He showed his vulnerable side to those close to him, but he didn't share his illness widely. He needed to face his own fear and couldn't do it if he had to face the fear he saw in others, even his closest friends.
Bill fought bravely, with determination and resilience. He extended small gifts of kindness to those who were fighting their own battles to reassure them that everyone was in this together. Meaningful exchanges of empathy and consideration for others are what made Bill special.
The period of pandemic isolation has been hard on those fighting cancer; they realize they are on borrowed time but cannot share in events that normally mark these years with memories. Though Bill's circle was small, the personal connections with family ̶ who steadied his resolve to keep on and who masked up to hug him when they could ̶ were very important. The unconditional acceptance and love meant so much to him.
His strength also came from staff at the London Regional Cancer Program as they reached out to guide, reassure and comfort him. Much love to his cancer care team, especially Dr. Michael Sanatani, Dr. George Rodrigues and nurse Julie Garrett, all of whom he trusted completely. Much gratitude for the care from the radiation and chemotherapy technicians who Bill came to think of as friends. Even when treatment became difficult, he looked forward to seeing each one of them.
Bill was the youngest child of Susan and William Downe, brother to Peter, Lise and Bret. He was a cherished son, brother and son-in-law; favorite uncle; adored cousin; caring stepson, stepbrother and brother-in-law; and a good friend to many.
Bill was treasured as a loving partner to Sandra and as a devoted father to Mackenzie, whom he admired for her wisdom, strength and warm heart. They promise to stay safe and take good care of each other. Bill, you made us laugh and our hearts will always be yours.
Bill's life will be celebrated with a beverage on Thursday September 23rd* in Bill's favourite space -- his backyard -- now carefully tended by Sandra and Mackenzie. To gather safely invitations will be extended only to closest family and friends at this time. For others who wish to honour Bill's memory, please join us by toasting him on this date in a place of your choosing. Bill would be tickled to know that we are making this gesture together.
*The family intends to make this an annual celebration and expand the circle of friends who can gather to remember, laugh and share good food.
Please consider making a donation in Bill's memory to the London Regional Cancer Program