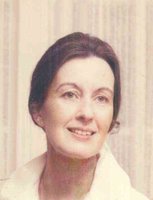 Margaret Joanne Oates
Margaret Joan (Campbell) Oates - 1927 -2021.
Joan passed away peacefully at home on Sunday, August 1, 2021, at age 94, surrounded by her devoted family.
Joan was born in Montreal on July 21, 1927, the daughter of Robert A. and Louisa Campbell. For 68 years Joan shared her life with her husband, Colin. Together they raised three daughters, Suzanne, Deborah (Joseph Zezulka) and Louisa (David Calver), who all grieve her passing. Joan had three grandchildren, Allyson Cooper (Jeff Basarab), Robert Oates-Calver and Claire Oates-Calver and one great-granddaughter Peyton Basarab.
Joan will be remembered for her devotion to her family, her love of all animals and her compassionate nature. Music was a large part of her life and brought her great joy; she sang in many choirs in the Montreal area, principally the choir of the Church of St. Andrew and St. Paul.
In lieu of flowers donations may be made to the Canadian Wildlife Federation or a charity of your choice.