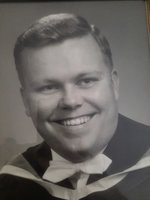 Bob Jenkinson
Robert "Bob" Jenkinson passed away peacefully at home in London, Ontario on August 13th, 2021 at the age of 78.
Bob was the loving husband of Janet, his wife of 53 years, the proud father of Jonathan, Carol Anne and David, and the laughing and life-loving "Pa" of seven grandchildren Brandon, Jessica, Liam, Evan, Adam, Connor and Paul.
Bob grew up in Hamilton, Ontario and met the love of his life Janet at the University of Guelph where he went on to complete a Diploma in 1964, a Bachelors degree in 1969 and a Masters degree in 1971.
He enjoyed a long and successful career in agriculture and the seed industry where he had an impact on many. Crop tours remained one of his favorite outings right up to his last days, especially if they could be finished off with a visit with his grandkids.
Bob was a friend to many and will always be remembered for the twinkle in his eye, his warm smile and wise words.
Memorial donations can be made to Ronald McDonald House and the London Foodbank through Woodland Cemetery in London.
The family will be having a private celebration of life and ask that everyone take a moment to remember and celebrate Bob in their own way.