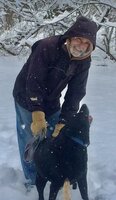 Jeff Gray
It is with heavy hearts that we announce the passing of Jeffrey Douglas Gray, 62, on August 18, 2021.
Cherished father of Erin (Marco) and Alyssa (Christopher).
Predeceased by his parents Bill (William) and Mille (Mildred)
Beloved sibling of Anita (Bob) and Stu (Connie).
Fondly remembered always by Glenna (mother of Erin and Alyssa).
Always ready to lend a hand whenever needed, sit down and have a beer or go for a hike with the dogs, Jeff's love and memories will live on forever through the many family members and friends who love him.
For those who would like to honour Jeff or offer condolences to his family, an informal Celebration of Life will be held on Saturday September 18th with drops ins and/or extended visits welcome anytime after 4:00 pm. Celebration to take place at the home of Erin and Marco (located at 27 Thomas Janes Drive, in London).
In lieu of flowers the family asks for donations to be made to the Ontario Trails Council (www.ontariotrails.on.ca) in an effort to continue the preservation of the trails Jeff loved so fondly.