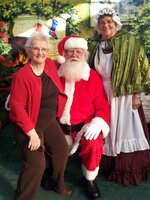 Ruth Hoover
Ruth Hoover died on the 19th of August, 2021, at the age of 97, after a lengthy struggle with congestive heart failure. She is survived by daughters Carolyn Lammie (Brian, 2011); Barbara (Rick), of London, Ontario; and Anita Johnston (Randy, 2018) of Sherwood Park, Alberta. She is also survived by her grandchildren Andrea Lammie Thompson (Mike) and their children, Morgan and Will, of Niagara Falls; Alex Thompson (Sarah) and their son, Logan, of Welland; Michaela Thompson and Alec, of Kingston; Andrew Lammie (Ashley) and their children, Brooklyn and Kylie, of Port Elgin; Trent Johnston (Teneisha) and their children, Tiyana and Tristen; Shauna Johnston, all of Edmonton, Alberta; and Darren Johnston (Crystal) and their children Violet and Luna, of Sherwood Park, Alberta.
Ruth was raised by her mother, Irene Aitken Taylor (1966) who was widowed (James, 1928) when Ruth was only 5 years old. Ruth had no siblings.
A life-long resident of Old South, Ruth was a proud graduate of London South Collegiate Institute, where her daughters also attended.
Ruth was a skillful knitter, sewer and loved to crochet, creating many heirlooms for family and friends. She recalled her piano and viola lessons from childhood and played tunes by ear whenever she had the chance. She dazzled them on the dance floor, even into her 80's! Ruth loved Christmas, and kept reminders of her favourite season on display, year-round. Her second favourite season was baseball, as she was a devoted Blue Jays fan.
Ruth could well be described as determined and indefatigable: her family referred to her affectionately as the "Energizer Bunny," because she just seemed to keep going and going… She maintained her own apartment, with help from Carrie. Ruth, on her own, raised her two younger daughters, doing her best to keep a roof over their heads and food in their bellies.
Ruth's family expresses gratitude for the care and services offered by her primary physician, Dr.Cejic; VON care-giver, Diane; Brenda, Faye and staff at Extended Families for Hire; her neighbour, Phil; as well as the many doctors, nurses and staff at Victoria Hospital Campus of LHSC who cared for in her final days.
Ruth has been cremated, and will be buried at Woodland Cemetery, with her parents. There will be no funeral or memorial service, at her request. Should you choose to make a donation in her memory, we suggest the Heart and Stroke Foundation.