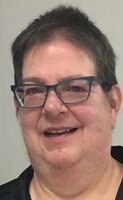 Victoria Anne Olds
OLDS, Victoria Anne Ph.D.
June 19, 1958 – August 28, 2021
Dr. Vic (Vicki) was raised in Thistletown, daughter of Grace and Donovan Olds. She enjoyed summers during her teens as a camper and staff at Camp Artaban in Bolton. She earned her Ph.D. in Management Sciences at University of Waterloo and later worked for several decades teaching Math at University of Western Ontario where she was employed at the time of her death.
Vicki enjoyed singing bass with London Pro Musica Choir and playing bassoon with the New Horizons Band in London. She attended Lake Field Music Adult Music Camp for many years until it was shut down by COVID-19.
Vicki is survived by her mother (Grace) and her seven siblings—Mary (Les Wheatcroft), David (Sharon Lovett), Kevin (Patsy Chalmers), Lise, Rachel (Kevin Steffler), Melinda (Darryl Moore), and Tom (Nadya Labi). She will be sorely missed by them all and their children and grandchildren.
Charitable donations in Vicki's memory could be sent to LondonProMusica.ca, Doctors without Borders (msf.org), or Mission Services of London (MissionServices.ca).
Ubi caritas et amor, Vicki!
Live in charity and steadfast love.
We are holding a private family service celebrating Vicki's life on Sunday September 26th at 1:30 pm.
Unfortunately because of attendance limits due to Covid-19, we are unable to open the in-person attendance beyond the immediate family.
The service will be live-streamed on the St Paul The Apostle YouTube channel beginning at 1:30 pm, so those who would like to watch the service can do so virtually.
The YouTube channel link is: https://www.youtube.com/channel/UCAs5IhFP5KUsLaeEyj8YQ7w
The service should be available (barring any technical difficulties) starting at 1:30pm on the 26th and will remain there afterwards for those who wish to view it later.
PLEASE DO NOT SEND FLOWERS TO THE CHURCH DUE TO SEVERE ALLERGIES.