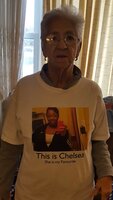 Susie Wayner
Olive (Susie) Elenor Wayner passed away in her 85th year on September 9, 2021, loving wife of the late Hubert Wayner.
Beloved mother to Louis, Brenda Currie (Cyril),Sheila,(late) Gail Hathaway (Bob),Lillian Brown (Donovan),Hubert, Margaret Glasgow,(late) Daniel
Loving grandmother to John, Donnie, Kyle, Taylor. Devon, Chelsea, Donald, Rita
She was a very loving mother and spoiler of grandchildren. We know you are now at peace and have joined with our other angels Dad, Gail and Danny to watch and guide us. We are left with many happy memories thorough the years and we will always remember you with smiles and laughter.
A celebration of life will be held at a later date.