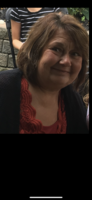 Patricia Ann Andrews
Patricia (Trish) Andrews, age 63, passed away peacefully at home surrounded by family and friends after a short battle with Cancer, Friday September 17th, 2021. She was born August 5th, 1958, in Churchill, MB, to Harvey Hammond and Gayle (Hood) Wilson.
Trish was survived by her mother (Gayle) Wilson, daughter Roxanne (Adam) Woolley, Grandchildren, Sophie and Brayden Woolley, brothers Dale (Patty) Hammond and Marty (Wahnita) Hammond, sister Barb (Brad) Pridham, step sister Debbie Wilson, and many nieces and nephews. She was predeceased by her step father, Doug Wilson, grandmother Hammond, and grandparents Hood
Trish spent the last several years of her life providing care for her mom, helping out with her Grandkids and being there for many friends. She had an unconditional love for all the people close to her. She took great pleasure in being surrounded by family and friends and celebrating life to its fullest. Trish knew how to have a good time and easily made new friends. She loved being involved in her Grandkids lives and also enjoyed being outside where you would often find her sitting by the fire or on the deck, with her grand fur baby close by. She will be deeply missed by her friends, family and all her knew her.
A celebration of life will be held at a later date.